About Us
With the Fine Packaging Comes Assurance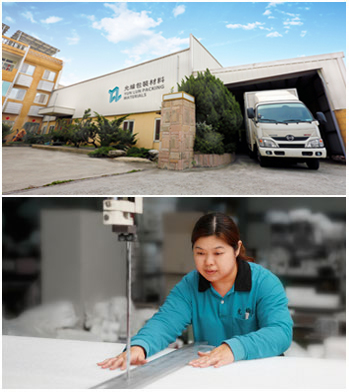 Yunlun Packaging Materials Co. Ltd. specializes in the R&D and manufacture of cushioning foam materials. Since its establishment in 1995, Yunlun has sought to "lead innovation in EPE application technology and create a sustainable culture for the packaging material industry". To address the introduction of new recyclable and environmentally friendly materials, Yunlun continuously engages in the R&D of diverse cushioning and packaging material applications, safeguarding our clients' products while giving consumers the opportunity to partake in green operations.
Cushioning and packaging materials should be light, low-temperature resistant, insulating, sound-absorbing, moisture resistant, shock-absorbing, antistatic, etc., to ensure sound delivery and that the products remain in working conditions. A whole variety of materials are used as cushioning and packaging materials, including EPE, EVA, IXPE, XPE, PS, PP, etc. Yunlun can also engage in the development of new materials according to our clients' needs.
The Company offers both standardized mass production and customized services. Yunlun has rich cooperative development experiences with our partners from high added-value industries, such as automotive, bicycle, consumer electronics, military, public engineering, sports equipment, bag accessory and hand tools.
We believe packaging materials not only serve packaging purposes, but also puts our concerns for the environment into action. To establish a quality, stable technology supply chain, our responsibilities are as follows:
Elevating the value of our clients' brands through fine packaging and premium quality services
Cushioning and packaging materials are no longer additional costs for businesses, but rather key means of conveying brand value.
Dedicated to the development of environmentally friendly materials, revolutionizing waste generated by traditional packaging materials
By using 100% recyclable cushioning and packaging materials, consumers are released from environmental concerns and can contribute to sustainable development.
We are committed to environment protection and sustainable development, with quality as the top priority for both development and production